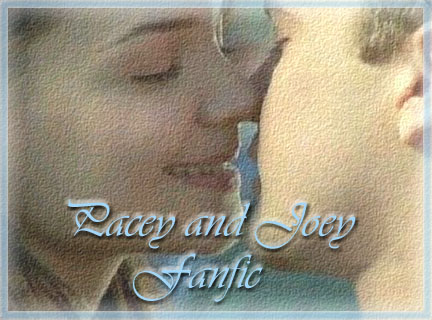 I do not write any of the fanfic. I only maintain this site. These are just some of the fanfic that I enjoy and think you will too. Go to Links to find more great authors.

Submissions: I'd love to add your P/J fanfic to my site. Just e-mail it my way. Please include the title, a short summary, rating, dedications, etc, and the fic, of course. Heh. Correct grammar and spelling are good things. And goo is always good but not necessary.

Disclaimer: None of the authors own Dawson's Creek or have anything to do with the show except for being fans. Dawson's Creek and their characters are properties of Kevin Williamson, the WB, and Sony/Columbia Tri-Star.

The stories are listed in alphabetical order according to the author's name.





aka Shyly
Moving On



Study Sessions
Coming Home
Stranger Things Have Happened
Remembering, Reckoning, Revelation

Again
Forever
Till I Gain Control Again
A Case of You
I Envy The Wind
Still I Long For Your Kiss

It Had to Be You
Waiting For You
Days Like These
In A Heartbeat
Breathing Room
Renovations
After This
Weathering The Storm
The Beginning Of The End
Just One Night
Ghosts
Fairy Tale Endings
Lies We Tell Ourselves

Oops
Doubtful
The Favor
Just Breathe
Nowhere You Can't Find Me
Clear Blue Skies
Possession
Body Language
The End
Skin I Want To Kiss


Check out Laura's Dawson's Creek Fanfiction.

Crossing Paths Rocking The Boat Love & Basketball




Check out Laura Smith's Dawson's Creek Archive.

Never Thought I'd Be Here

More Coming Soon...



Strictly Business


Check out Ophelia's Site.

Slow Speed Chase The Last Picture Show Coming Back

Wonder Why Every Night You Stay Over You

Daily Distractions Five Years



Cherries

At the End of the Dock

If I Was The One

The Ocean Between Us
Divided
Ghosts


NEW Season 6: The Fanfic Alternative



Sign Your Name Across My Heart
Here In My Arms
Summer Diaries
Not For Me
The Sea of Waking Dreams
The Call
Very Hush Hush
Gone & Miami
This Carousel
Impressive Instant
The Place Where We Started From
I Feel You
Clean
Everywhere I Look
It's Been Awhile
And if you would like to know when a new fic is posted at this site and at Ophelia's, join the email group!